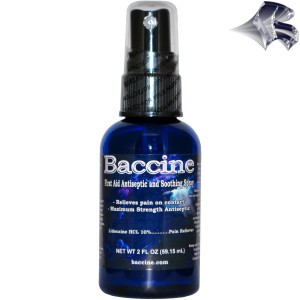 Baccine First Aid Antiseptic and Soothing Spray 2oz
Made in U.S.A.
Specifically designed to soothe your clients skin and help keep them in a calm, relaxed state of mind so the artist can maintain maximum focus on the work at hand! Be prepared to work longer per session when using Baccine! Keeps the complainers quiet, keeps the squirmers from squirming and it also helps your finish your work in 1 session rather than them leaving mid-session and not coming back at all! 
Baccine, making any needle sensitive procedure a lot less painful for your clients and helping to eliminate half finished work, a true problem solver!
Why use Baccine?
1) Effective at temporarily stopping pain to allow you to work longer! No 2nd sessions are needed when using Baccine!
2) Relaxed and comfortable customers! Less pain for your clients means longer sessions for you to complete your work! Every artist needs a weapon to fight for their client when they feel like giving up, tapping out or wussing out halfway into the session! 
In stock
Additional Information
| | |
| --- | --- |
| Weight | 0.5 lbs |
| Dimensions | 1 x 1 x 1 in |